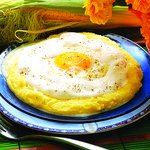 Description
Edit
In Romanian: Mamaliga cu ochiuri
Ingredients
Edit
Directions
Edit
When it is cooked, add 2 tablespoons each of butter, sour cream and grated cheese.
Butter a heat resistant glass dish, place the polenta inside and smooth the top.
Then, with a buttered spoon, make holes (nests) the size of an egg.
Break an egg inside of each nest.
Sprinkle with salt, add a few slivers of butter and place in the oven, until the egg whites are set.
Serve immediately.
You can also serve this in individual ramekins.
Ad blocker interference detected!
Wikia is a free-to-use site that makes money from advertising. We have a modified experience for viewers using ad blockers

Wikia is not accessible if you've made further modifications. Remove the custom ad blocker rule(s) and the page will load as expected.