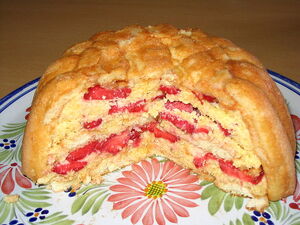 About charlottes
Edit
A Charlotte is a type of dessert that can be served hot or cold. It can also be known as an "ice-box cake". Bread, sponge cake or biscuits/cookies are used to line a mould, which is then filled with a fruit purée or custard. It can also be made using layers of breadcrumbs.
Classically, stale bread dipped in butter was used as the lining, but sponge cake or sponge fingers may be used today. The filling may be covered with a thin layer of similarly flavoured gelatin.
Ad blocker interference detected!
Wikia is a free-to-use site that makes money from advertising. We have a modified experience for viewers using ad blockers

Wikia is not accessible if you've made further modifications. Remove the custom ad blocker rule(s) and the page will load as expected.