Description
Edit
Romanian lamb meatloaf. Drob is made of minced organs wrapped in a caul fat (which is basically the outer lining that surrounds the organs of cows, lamb and pigs) and roasted like a meatloaf; a traditional Easter dish
Ingredients
Edit
lamb caul fat
lamb liver , heart, kidneys (which I cleaned with vinegar before), liver and lungs
salt
pepper
dill, parsley, green onion and green garlic
carrot ( already cooked and cut into little cubes) (facultative)
oil,
eggs (3 eggs for almost 500 grams meat )
Directions
Edit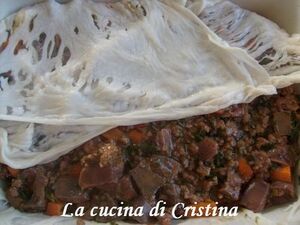 Let it cook in boil water for few minutes the meat ( lamb heart,the heart, kidneys cleaned with vinegar before, liver and lungs ).
Cut into small pieces the meat and the vegetables beat the eggs and it into the mixture oil the pan with sunflower oil or butter and cover with the lamb caul fat.
Use warm water to clean it before and be careful not to break it.
Let the borders out you'll use it to cover the mix.
Cook it at 180°C for 30-40 minutes in a preheated oven.