Description
Edit
In Romanian: Chifle umplute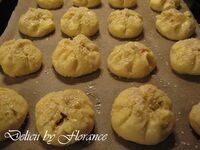 Ingredients
Edit
Directions
Edit
Cut the buns in half and soak in milk so that even the crust is moistened.
On each bun half, put a tablespoon of the cheese mixture and cover with the other half.
Divide the butter in 12 parts.
Set one piece of butter on the baking sheet, the filled bun on top and another piece of butter to cover the bun.
Then pour 1 teaspoon of sour cream on top of each bun.
Bake until golden brown.
Serve hot.
Ad blocker interference detected!
Wikia is a free-to-use site that makes money from advertising. We have a modified experience for viewers using ad blockers

Wikia is not accessible if you've made further modifications. Remove the custom ad blocker rule(s) and the page will load as expected.