Description
Edit
In Romanian: Friganele de mamaliga II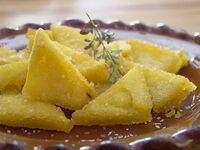 Ingredients
Edit
Directions
Edit
There are two options here.
Either make a rather hard boiled polenta, slice it and then fry the slices in hot oil.
Serve with whipped dry beans or peas.
Add 2 – 3 tablespoons grated Parmesan, 1 tablespoon butter.
Mix well.
Then pour the polenta on a wet wooden cutting board.
When the polenta is cold, cut it in diamonds.
Fry in hot butter, sprinkle with Parmesan and serve with sour cream.
Ad blocker interference detected!
Wikia is a free-to-use site that makes money from advertising. We have a modified experience for viewers using ad blockers

Wikia is not accessible if you've made further modifications. Remove the custom ad blocker rule(s) and the page will load as expected.