Description
Edit
In Romanian: Gogosi din cartofi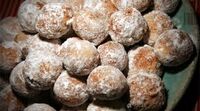 Ingredients
Edit
Directions
Edit
Roast the potatoes in their jackets, then peel and grate them (while they are hot).
Place them in a bowl, add the yeast mixed with the sour cream and yolks, salt and mix with flour to make a medium soft dough.
Cover the bowl with a cloth and let rise in a warm place.
After it has risen well, roll a sheet the thickness of a pencil.
Cut rounds with a glass and place some ground ham or crumbled sheep cheese mixed with an egg on each round.
Cover with another round and make sure the edges stick.
Fry in hot oil and serve hot with tea.
Ad blocker interference detected!
Wikia is a free-to-use site that makes money from advertising. We have a modified experience for viewers using ad blockers

Wikia is not accessible if you've made further modifications. Remove the custom ad blocker rule(s) and the page will load as expected.