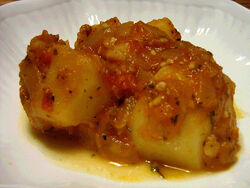 Prep Time:
Cook time: 30 minutes
Serves:
Description
Edit
Potato Ragout
Ingredients
Edit
1kg potatoes
150g onions
10g paprika
60ml sunflower oil
50g tomato paste
1 tablespoon flour
2 bay leaves
Directions
Edit
Cut the onion finely and fry in oil. Mix tomato paste with water and place over onions. Then add paprika, salt and bay leaf. Then add one tablespoon of flour. Place potatoes without skin, wash and cut into cubes. Boil 30 minutes.
Ad blocker interference detected!
Wikia is a free-to-use site that makes money from advertising. We have a modified experience for viewers using ad blockers

Wikia is not accessible if you've made further modifications. Remove the custom ad blocker rule(s) and the page will load as expected.