Description
Edit
In Romanian: Coltunasi cu visine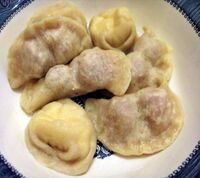 Ingredients
Edit
Directions
Edit
Wash the sour cherries, remove pits and leave them in the strainer with some sugar.
Make a stiff dough.
Make a ball of the dough, cover with a cloth and let rest for 10 – 15 minutes.
Roll a thin sheet and cut 3 inch squares.
Before filling the dumplings, press down on the sour cherries to drain the liquid.
Mix this liquid with 3 tablespoons of sugar and refrigerate.
Fill the dumplings, boil them, drain them and then rinse them in lots of cold water.
Drain them well, arrange on the serving plate, powder them with the rest of sugar and then pour the cherry liquid mixed with sour cream on top.
Serve cold.
Ad blocker interference detected!
Wikia is a free-to-use site that makes money from advertising. We have a modified experience for viewers using ad blockers

Wikia is not accessible if you've made further modifications. Remove the custom ad blocker rule(s) and the page will load as expected.